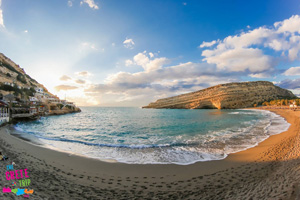 Crete - the home of Minoas, the island which attracts thousands of tourists every year because of its renowned archaeological sites, the unique natural beauty and the ability to combine picturesque landscapes with cosmopolitan life. The hundreds of resorts and the thousands tourist centers, that are all over the island offer its visitors unforgettable and unique holidays.
Matala is located in the southern side of Crete , in an area with magnificent natural beauty. The magnificent creek has a beautiful sandy beach call "Chrysi Ammoudia", where you can have a swim next to the carved caves of the Roman era (many of which are in the sea), when on the same time the clear blue sea and the deep red sun which sets in the sea, create unique moments and feelings. You can also discover, by walking through a bushy path, the unique "Red Beach" which was named after the red granular sand.
Those beauties were the ones which attracted the hippies in the 70's. They were enjoying the spectacular nature expressing their opposition against the violence and the war of that era.
The area is also renowned for its significant archaeological finds which include signs of the summer palace of Festos and Gortyna as well as a historical cave named "Vroutospiliara", where the Roman general Brutus seemed to have lived.
Near Matala, there are still some other places which you should visit, such as beautiful landscapes on the mountains, the ancient palace of Festos , the summer palace of "Agia Triada" and the antiquities of Gortyna. Not far away, you will find the beach of Komos, with the antiquities, the endless sandy beach and the big black rock in the middle of the sea. Homer says that this is the rock that Cyclops Polyphemus threw, when Odysseus blinded him.
You can also visit the monastery of "Odigitria" and admire the life of our ancestors and you should not miss out to pass by the "Agiofarago", an amazing gorge inside which there are perennial cedars and which ends up to a fabulous beach.
In the surrounding area, there are scattered mountainous villages everywhere, all of them full of myths and traditions. Having endless fertile meadows, the area seems to have been blessed by some ancient spirit. Every part is cropped with vineyards, olive trees, orange trees etc.
As far the sea is concerned… miles of fine white sand mixed with the neat blue water.
Photos from Matala